Choosing Quartz Countertops 
There are pros and cons to each countertop material. Marble is porous, granite stains easily, engineered quartz can be damaged by excessive heat, and stainless steel can look too industrial. Some options come in a broader range of colours than others and they vary in durability and ease of maintenance. Our experts at 180 Kitchens can help you find exactly the right countertop for your kitchen and the way your family lives in it. 
Quartz is non-porous and can be cleaned with a damp cloth. It is also resistant to bacteria and mildew, and an excellent alternative to marble. With a variety of colours and patterns to choose from, and timeless, durable elegance, a Quartz countertop may be the right choice for you!
Durability
Choosing the best countertop is a serious business. You want your countertop to be durable, beautiful, and practical. Quartz is the hardest mineral on earth, making it an excellent choice for your kitchen countertop. It is resistant to stains, abrasives, scratches, and heat up to 150oC/300F. Using trivets and hot pads can keep your countertops unblemished and looking new.
Colour Choices 
Choosing the best colour for your kitchen countertops is an important part of your interior design. With many styles and colours to choose from, you can add a pop of warm colour or a bold contrast. 
With the array of colours, finishes, and textures available, quartz countertops work with any decorating style. You can pair them with dark cabinets, light cabinets, or even jewel-toned accents. There are also quartz countertops with swirled designs to add a dramatic flair or a personal note to your kitchen. 
For a clean sleek look, think white quartz paired with white cabinets, stainless steel appliances, and low-toned wood finishes. White Zeus Extreme is a snowy white quartz that will complement any decorating style. It features a smooth, glossy finish that will be the focal point of your kitchen. 
Maintenance
Keeping quartz countertops clean is not only hygienic, it maintains them in their best shape. A few simple steps can keep them looking new for years. 
For daily cleaning, use a gentle liquid detergent, warm water, and a soft cloth. Or use a non-abrasive cleaner specifically for quartz. Spray, wait a few minutes, and wipe it off. You can also use a sponge with a scrubbing side or a plastic scraper to remove stuck-on food.
Give your quartz counters a deeper clean once a week to keep them looking their best and avoid expensive repairs. A good quartz cleaning product will remove hardened grease and other dirt. You can also use glass cleaner. Never use abrasive cleaner or bleach and never put hot pots or pans directly from the stove on your countertop. Although quartz is heat resistant, it can be damaged by quick temperature changes.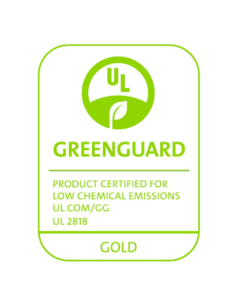 Vicostone Quartz: GREENGUARD Certified & Food Safe
At 180 Kitchens, we work with Vicostone—one of the most innovative manufacturers of quartz countertops for use in both residential and commercial applications. 
Vicostone has been UL GREENGUARD Gold Certified, and is made using safe inorganic binders. It is resistant to corrosive chemical agents and volatile organic compounds. It also has NSF® certification for food safety.
Home Renovations in Surrey, Vancouver, or Greater Edmonton 
If you're in Surrey, Vancouver, or Edmonton and surrounding areas, and are considering refreshing or remodelling your kitchen, we can help you achieve the custom look of your dreams. With our access to quality, elegant materials for your cabinets and countertops and 20+ years of experience, we help you "wow" every visitor who steps into your home!
Get the unique home remodelling experience today with a free consultation, call us in Vancouver: (604) 787-8285    Edmonton: 780-868-0196 or visit our website for a free in-home quote.