What is a Kitchen Backsplash?
A kitchen backsplash is a vertical extension to a countertop—typically in the kitchen or bathroom—that protects the wall. It can be as high or low as you want. The backsplash is more than a protective barrier; it's a significant design element in your kitchen.
Why Is a Backsplash Necessary?
Installing a kitchen backsplash can offer several benefits:
Protection
A backsplash can protect your kitchen walls from water, oil, and other cooking splatters.
Easy to Clean
Most backsplash materials are easy to clean, making kitchen maintenance simpler.
Aesthetic Appeal
Backsplashes can add a significant design element to your kitchen, enhancing its overall look and feel.
Increased Home Value
Since the kitchen is a main focal point in any home, as attractive backsplash adds value, appealing to potential buyers and improving your home's appeal.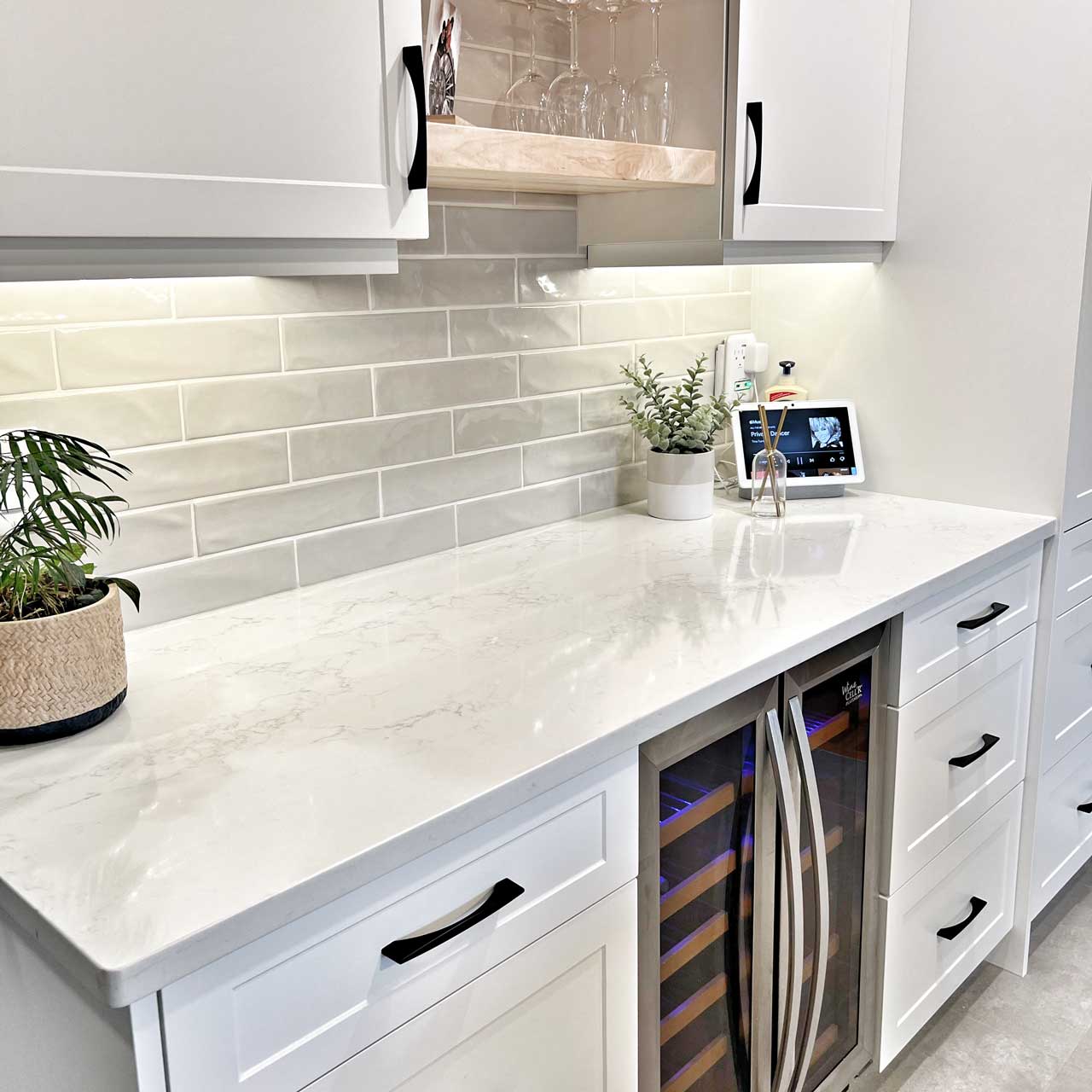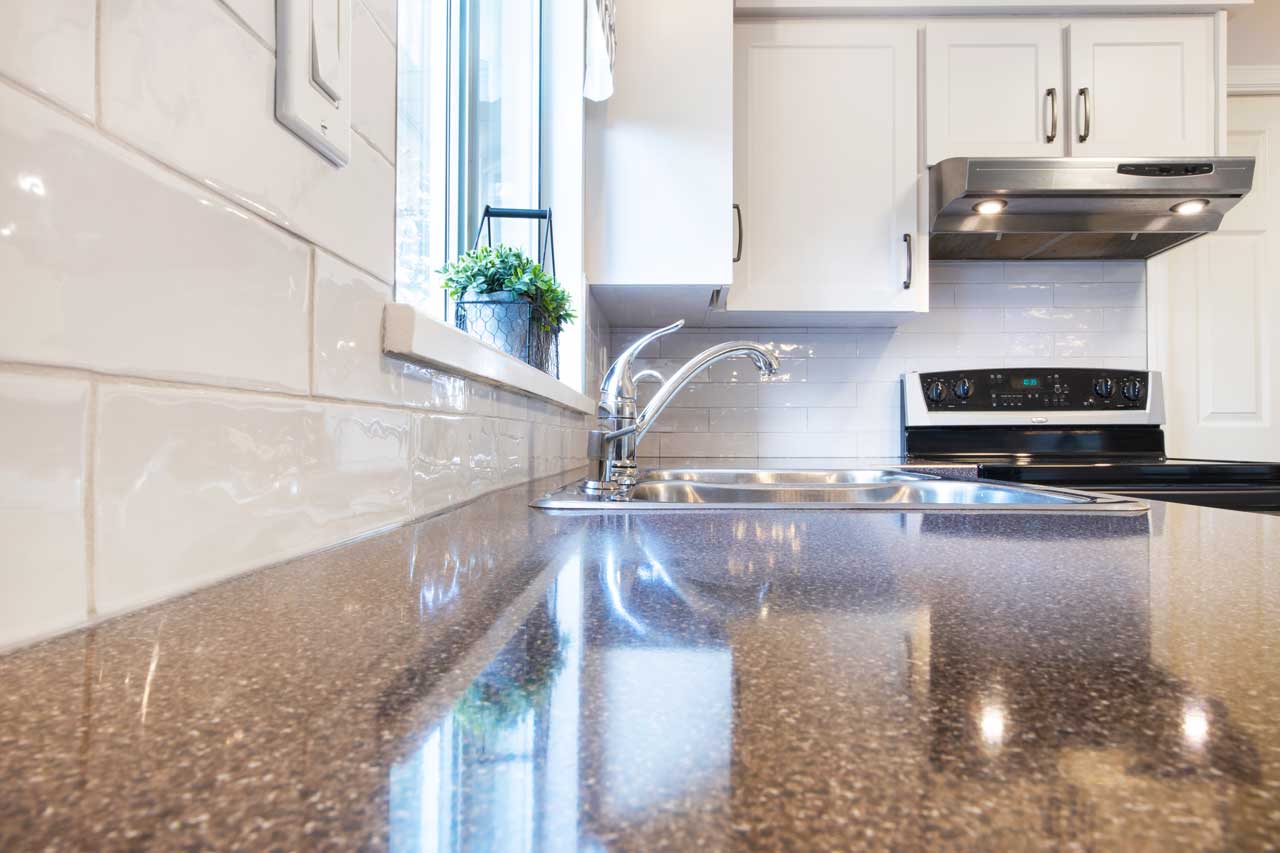 Backsplash Installation Services in Vancouver
At 180 Kitchens, we offer a comprehensive range of backsplash installation services for residential and commercial clients.
Tiling services for private and commercial clients
180 Kitchens offers a broad range of tiling services for both private and commercial clients. Whether you want to refresh the look of your home or add a professional touch to your business premises, our team of skilled professionals is ready to assist. For homeowners, we provide services ranging from kitchen backsplashes to bathroom floors. For our commercial clients, we offer services that include tiling for large-scale projects such as office buildings, restaurants, and retail spaces. Our team is equipped with the knowledge and expertise to handle projects of any size and complexity.

Backsplash tile installation and repair

One of our specialties at 180 Kitchens is the installation and repair of kitchen backsplashes. A well-installed backsplash can transform the aesthetic of your kitchen, making it look more polished and refined. We work with a range of durable and beautiful materials, including ceramic, porcelain, mosaic, and natural stone, and can help you choose the perfect backsplash to complement your kitchen design. In Vancouver, we are known for our meticulous attention to detail and commitment to quality. If your existing backsplash needs repair, our team can skillfully mend it, restoring its original beauty and functionality.

Tile installation in any other room

In addition to kitchen backsplashes, 180 Kitchens offers tile installation services for any other room in your home or business premises. Whether it's a bathroom, a hallway, a living room, or a commercial space, we can transform it. Our team can help you select the right type, colour, and pattern of tile to match your decor and personal style. From the initial consultation to the final installation, we are committed to delivering excellent customer service and top-notch workmanship.
Backsplash Installation
Our installation process is thorough and meticulous, ensuring every perfection every step of the way.  First, our designer, at no charge, will help you select the perfect tile to suit your style and taste. Our team will complete your tile installation, ensuring precise measurements and all work from preparing the wall surface to installing, grouting, and sealing the tile are done to your satisfaction. 
Why Choose 180 Kitchens for Your Backsplash Installation in Vancouver?
Choosing the right professional for your kitchen backsplash installation guarantees a high-quality finish, long-lasting results, and a beautiful aesthetic . 180 Kitchens provides the highest quality service as well as durable and beautiful materials, competitive pricing that does not compromise quality, and a finished space you'll love to show off. 
Before & After
Move the handle slider left or right to see the before and after images.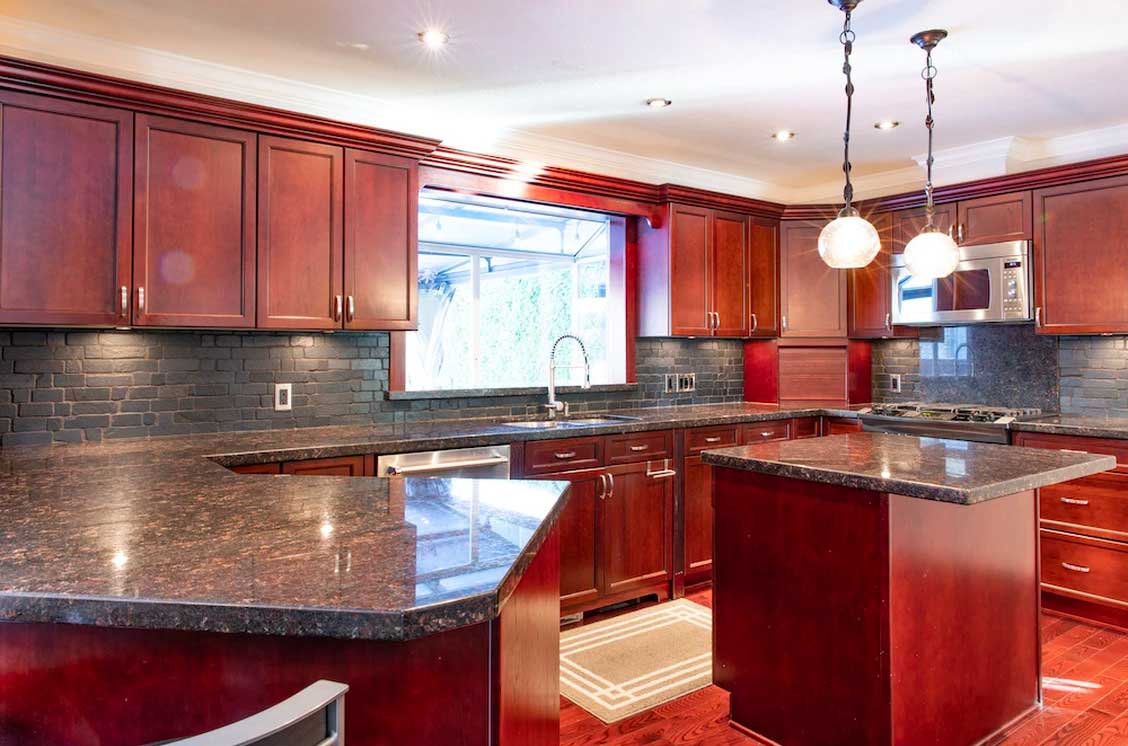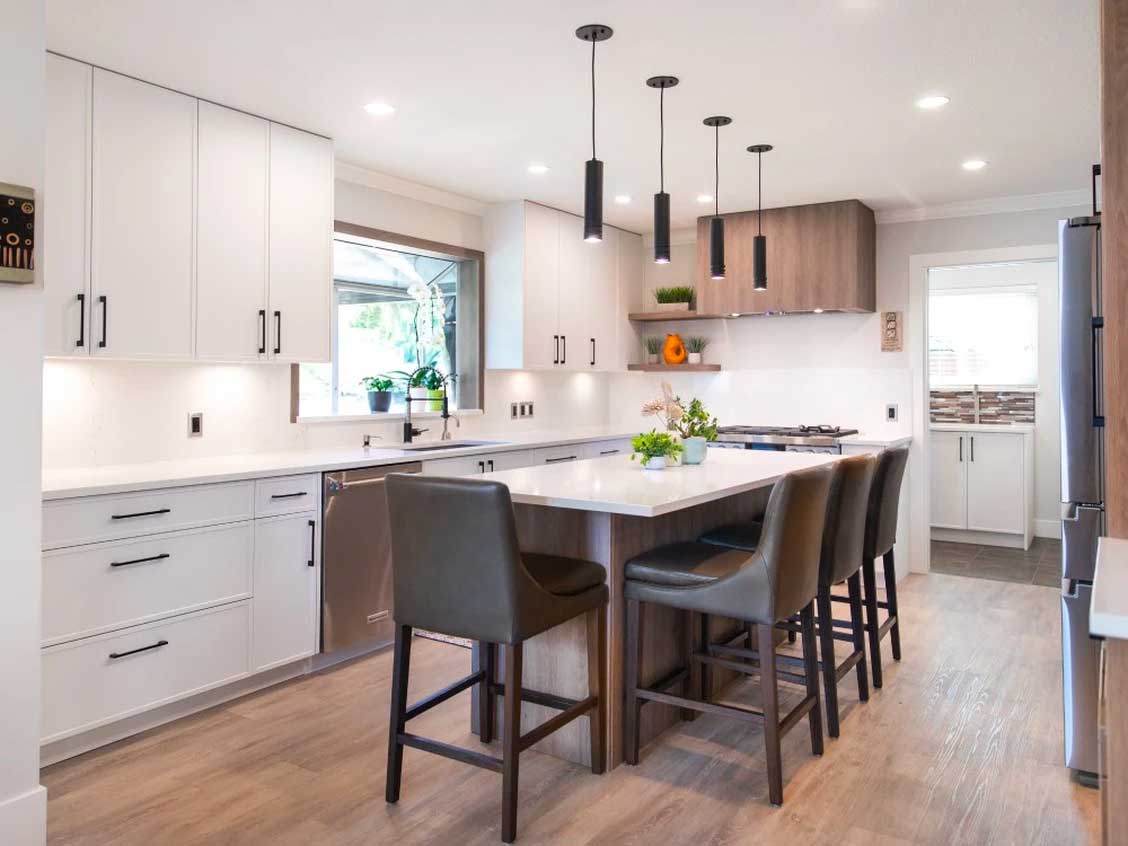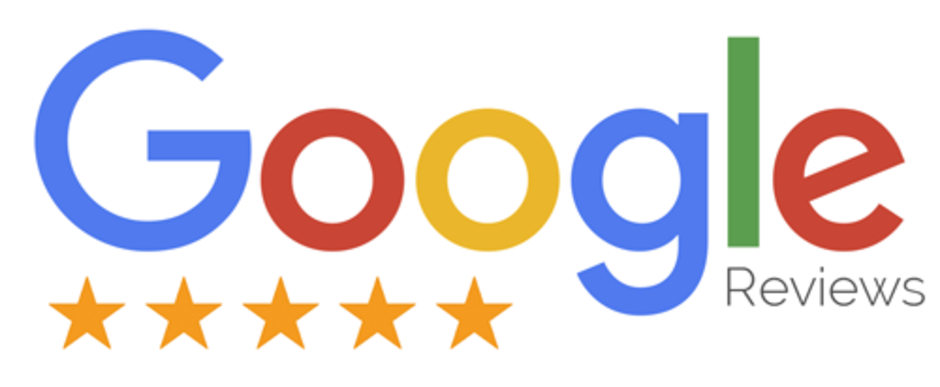 See what our customers are saying about us
This summer 180 Kitchens came into my home and in less than 2 days completely transformed my kitchen! As one of their first Alberta customers, I'm so happy they are branching out into Alberta, with a base in Edmonton.
In 2020, I had new kitchen cabinet doors custom made locally and unfortunately, despite the high cost, they were a disaster. The materials used were low quality and the lacquer paint just simply could not hold up to everyday wear and tear. Within 2 months, paint chipping was visible on nearly all the doors and I was devastated. Then 180 Kitchens came along and replaced all of my cabinet doors with their much higher quality product. They also changed out all my hinges to soft-close type and replaced all my drawers, again with higher-end product. After 2 months of normal wear and tear, I am thrilled to report that the cabinets look as amazing as they did on day one.
I highly recommend 180 Kitchens for your new project – it's an affordable option, with lots of style choices and you'll end up with a durable, beautiful kitchen!
We are very pleased with the work done and the look of the cabinets!!
Our kitchen looks brand new!
The staff were all very professional, from the design team right through to the installation. The work was completed in the time frame quoted!
Cooper ( our dog) was very happy with all the love he got.
We highly recommend 180 Kitchens & would hire them in the future for other home renovation projects.
The 180 kitchen team has given us a dream renovation. Not just the finished product but from the very beginning. Starting with the consultation they were so professional and friendly. Once they began they were here on time every day excited and motivated to get our kitchen done. Every time we had a question or needed advice they were quick to respond and always willing to help.
I was fully comfortable having them in our home when I would leave. I have a 13 month old daughter and they were so accommodating and thoughtful of her too. Needless to say our kitchen is absolutely amazing and we can't believe how quickly it was done. The craftsmanship is done to perfection and the quality is outstanding. They gave us great advice and tips on some finishings that I am so happy with.
I will HIGHLY recommend 180 kitchen to anyone and everyone who wants the kitchen of their dreams in half the time of other contractors. Thank you guys so much…You have made us fall in love with our home all over again!! You were truly the best!!!
FAQs
Q: What materials can be used for a kitchen backsplash?
Ceramic, glass, natural stone, and porcelain tiles are commonly used for kitchen backsplashes. The choice of material depends on your style, budget, and maintenance preference.
Q: How long does it take to install a kitchen backsplash?
A: The installation time can vary depending on the complexity of the design and the size of the area to be covered. Typically, a backsplash installation can take between 2 to 3 days.
Q: How do I maintain my kitchen backsplash?
A: Most backsplash materials are easy to clean with a damp cloth and mild cleaning agent. For grout lines, a grout cleaner can be used.
Q: How much does it cost to have a kitchen backsplash done?
A: The cost of having a kitchen backsplash installed can vary greatly depending on the materials used and the size of the kitchen. On average, homeowners can expect to pay between $600 to $1,350. However, high-end materials like natural stone or custom designs can push the price up to $2,000 or more.
Q: What is the best type of kitchen backsplash?
A:The best type of kitchen backsplash largely depends on your personal preferences and kitchen style. However, ceramic and porcelain tiles are popular due to their durability and easy maintenance. They come in a variety of colors and designs, allowing for customization. Glass tiles are also a great choice for a modern, sleek look. For a more rustic or traditional kitchen, a natural stone backsplash may be the best choice.
Q: Should backsplash be lighter or darker than countertop?
A: There's no definitive rule, but generally, it's recommended that your backsplash either matches or complements your countertop in color. If you have a lighter countertop, a darker backsplash can add depth and visual interest to your kitchen. Conversely, a lighter backsplash with a darker countertop can help to brighten up the space. Ultimately, the choice should align with your personal taste and the overall design scheme of your kitchen.
We value our customers and can't wait to work with you!
Let's start a PROJECT.
Transform Your Kitchen with 180 Kitchens
Transform your kitchen with a beautiful, functional, and stylish backsplash. Let's bring your vision to life!
Our team of experts is passionate about delivering exceptional results that exceed our clients' expectations. So, when you're ready to give your kitchen a new look,  contact us!