The style of cabinetry you choose for your kitchen will determine more than its style—it will say something about you and how you live. Are you formal? Casual? Prefer traditional or transitional? There are many styles of kitchen cabinetry to choose from. In addition to the style of cabinets you choose, you will also notice different overlays, the amount of the cabinet's frame covered by the cabinet door, such as full or partial overlays.
Custom-Built Cabinet Boxes
Choosing custom-built cabinet boxes can help you personalize your kitchen. They are made to fit your needs and offer unlimited design options. Custom cabinet makers take pride in their work and can design cabinets to fit your style. They use durable materials and have a better understanding of cabinet finishing.
Custom-built cabinets can range in cost. If you are planning a kitchen renovation or remodel, cabinets are an important focal point and need to be chosen with care as they affect the value of your home.
Generally, kitchen cabinets come in two construction styles: framed and frameless. Framed cabinets have a face frame that provides reinforcement for the doors and drawers. They are structurally designed to allow the box to be thinner and fit into tighter spaces. Framed cabinets are a good option for kitchens that have irregular shapes. Frameless cabinets are a more modern design that offers more access and versatility. They also allow for plastic, acrylic, or wood veneers.
Plywood for cabinet boxes is a solid material better able to resist moisture damage than other material. These boxes are usually made with ½-inch thick plywood. 
Plywood is made of tiny layers, or plies, of wood glued together with adjacent layers having the wood grain rotated up to 90o for strength. There are several grades of plywood; cabinet grade plywood is harder than softwood types and can be cut on a table saw or router. Plywood boxes have the advantage of staying square during delivery.
Particleboard is a lower-cost alternative to plywood and is often used for cabinet drawers. Particleboard is made from wood shavings and binding materials, which are compressed with high heat and pressure. However, these cabinets are susceptible to moisture damage, and the joints can be difficult to repair.
Leveraging German Technology for a Reliable and Durable Finish
Because of its exceptional durability, our 3D Laminate line of custom cabinet doors, made with German synthetic laminate, is ideal for practically any kitchen. There is something for every aesthetic, with more than 40 colours and treatments, and 25 styles to choose from.
From rich super matte to sparkling high gloss and ruggedly textured wood grains, our 3D Laminate cabinet doors are built with premium-grade MDF—high-density wood that is very strong and keeps screws and hinges in place. It is coated with some of the best 3D laminate on the market.
Custom Options to Cut Cabinet Doors to Any Size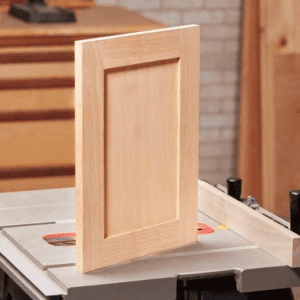 Whether you're replacing cabinet doors or adding new ones, there are plenty of custom options for cut cabinet doors. You can choose from partial or full overlay, as well as an overlay style, such as flat or raised panel. The type of door you choose depends on the style and construction of the cabinet.
When choosing a style, make sure that it matches or complements your existing cabinets. Cabinet doors are available in a wide variety of styles, including arch panel, raised, flat, and shaker.
If you want your new doors to match your existing cabinets, choose the same size with the same type of overlay. For example, flat panel cabinets are thin, while raised panel cabinets are thicker. If you choose full overlay, your cabinet doors will have a seamless finish. This option works best when you have a face frame cabinet box. You can also create a seamless look with a frameless cabinet box.
Building New Kitchen Pantries and Islands
Whether you want to upgrade your existing kitchen or build a new one, you have options for designing and building  pantries and islands. The design should fit seamlessly into the overall kitchen space, fit the scale of the kitchen, and be functional.
If you would prefer a versatile island, a furniture-style island can be a great fit that includes closed or open storage depending on your style preferences. Furniture-type islands are ideal for those who enjoy antiques or like a more rustic look.
A table can also do double-duty as a kitchen island. It can provide seating and dining space as is, or if raised on a plinth or under-counter style cabinets, can provide an extra workspace and storage. 
If you're building a new kitchen island, consider incorporating appliances into the design. If plumbing and electrical can be moved, appliances like a sink and dishwasher or a cooktop can help you maximize functionality and enhance the kitchen's overall look. If you don't want to install appliances, you could include shelves, cabinets, and drawers for storage.
A pull-out drawer can provide easy access for utensils. A trash bin slot or a towel rod can make kitchen tasks easier. For a unique touch, try incorporating a contrasting cabinet colour, possibly with a geometric pattern to make your island as unique as you!
Give Your Space a New Look and Feel
When you book a free consultation with 180 Kitchens, you'll be working with experts who have more than 20 years of experience. With environmentally friendly principles throughout all our cabinet resurfacing and home remodelling services, you'll have the interior design of your dreams! Get in touch with our team today at (604) 787-8285 (Vancouver, BC) or (780) 868-0196 (Edmonton, AB).