The Best Kitchen Organizing Hacks on the Internet
The Best Kitchen Organizing Hacks on the Internet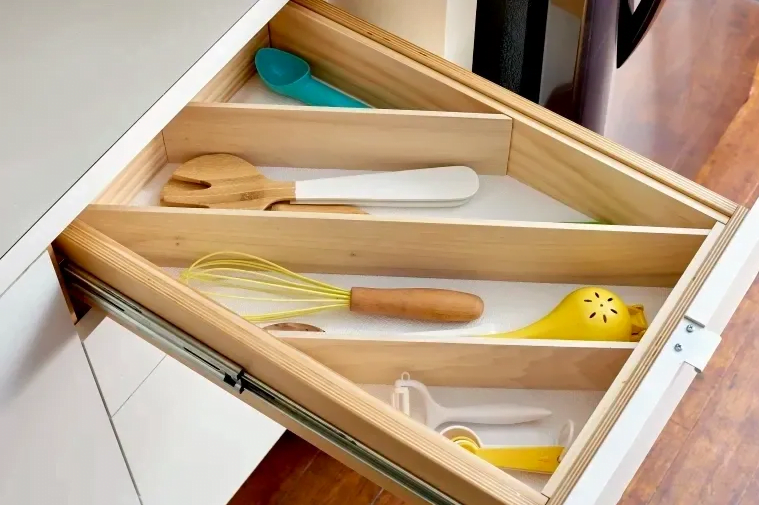 The problem with organizing the kitchen is that it's full of stuff, and that stuff tends to be all different sizes and shapes — meaning there's no magical solution that will work for everything. Challenging! So it's no wonder the internet is full of ingenious hacks to tackle different areas of the kitchen.
Here are some of the best ideas out there right now.
1. Hang measuring spoons and cups inside your cabinets.
If you're like me, your measuring spoons are all in a jumble in your silverware drawer and the measuring cups are currently being used as noisemakers by the kiddos. This clever find, featured here, uses the vertical space on the other side of your cabinet door to keep them organized — and out of the kids' reach. Just be sure to line the door with cork before you hang your measuring tools or else you'll regret it.
2. Set up a small appliance cabinet.
I love the look of a clutter-free countertop, but it's just not realistic when you have small appliances you use every day, like the toaster and the coffee maker. This smart solution from Toni of Design Dazzle incorporates a lift-up mechanism on cabinet doors to store appliances, plugged in, on the counter, but hidden when you're not using them.
3. Add a tension rod under the sink.
The area under the kitchen sink is notoriously hard to organize with all that plumbing in the way! This clever solution from the blog Passion for Home uses a curtain tension rod to hold spray bottles and even an oversized mug (the rod goes through the handle) full of sponges.
4. Add drawers under the cabinets.
Those last few inches under your base cabinets (sometimes called the plinth or toe-kick) are usually just wasted space. This clever solution, which we've written about before, turns that teeny space into drawers, so you have a few extra inches to store flat, infrequently used items like cookie trays and linens.
5. Use a tray for countertop clutter.
I'm a firm believer that when you use a tray, well-edited clutter becomes part of the decor. I love how Laura from Inspiration for Moms used that idea to make her most-used utensils, oils, and spices part of her kitchen's decor by arranging them on a cute tray. Plus, a small-ish tray forces you to be honest about what you truly use and need to keep on the counter.
6. DIY a pullout drawer for your baking sheet.
Baking paraphernalia is always hard to organize: If you stack the pieces, you risk the whole pile tumbling down when you try to take out one baking sheet, but if slide them in on their side, stuff gets pushed deeper and deeper into the cabinet. This smart DIY idea from Megan and Eric of Two Feet First integrates vertical storage and a drawer so cookie sheets, pans, and muffin tins are not only organized but also easy to access.
7. Make a hanging utensil rack.
This DIY trick makes smart use of vertical space by tapping a usual source: plumbing supplies. Medina at Grillo Designs mounted plumbing pipe clips on a piece of wood, which she then hung on her wall to create a rustic and handy utensil hanging rack. Sure beats taking up a drawer or space in a crock on the counter.
8. Set up drawers diagonally.
This image is one of our most popular pins on Pinterest. Why? Because it's one of those things that's just so simple, yet something none of us has ever thought of. It's one of those "oh, duh" moments!