Let's Turn Your Space Around Kitchen Trends for 2022
Let's Turn Your Space Around Kitchen Trends for 2022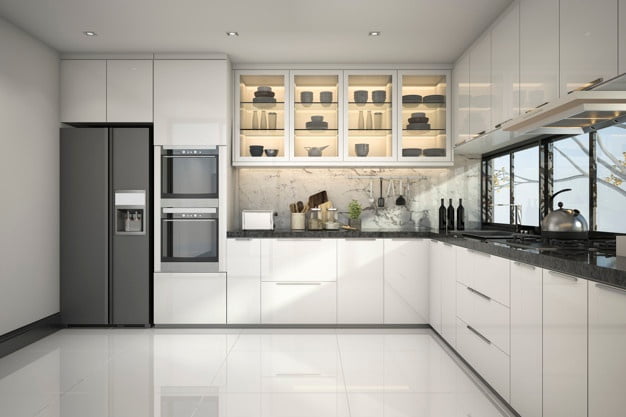 The kitchen is the heart of your home, the space where your family lives and interacts. It deserves some TLC and an updated, on-trend look! 180 Kitchens can give you that look in a budget-friendly, environmentally responsible way.
A kitchen renovation need not be a painful, drawn-out process. We specialize in cabinet refacing, an innovative and efficient process that will transform your entire kitchen with minimal disruption. We will take the time to understand your needs and help you define your preferences. You can work with one of our designers, at no extra cost, for professional recommendations to create the stunning kitchen you've always wanted.
Whether your style leans more toward a classic look, pure practicality, or the latest in unique materials and colours, 180 Kitchens can turn your space around and give you the kitchen you've been dreaming of!
These are the trends designers are loving for 2022.
White Cabinets
White cabinets are classic! All-white cabinetry is a timeless option and a great foundation for today's organic style. White matte finishes are elegant and understated and also brighten up your space. White cabinets are suitable for every style of kitchen, whether you're after a modern or rustic look.
Two-tone Colours
Colour will be popular in 2022, from neutral greige or grey to luscious and luxuriant navy or sage. Kitchen islands are a great feature in any kitchen, and two-toned islands are very trendy at the moment. They can make any space pop! Colour cabinetry isn't restricted to islands, of course—let your inner designer out! 180 Kitchens can update your cabinets with 20 different door styles and more than 40 colours.
Functionality
One of the goals of kitchen renovations is to increase the space's functionality. The trends for 2022 include functionality, with a host of design elements to help you get the most out of your kitchen. Basic cabinets can be transformed into efficient storage spaces, with base cabinets transformed into pull-out and soft-closing drawers, garbage bins, recycling bins, and more.
Shaker Style Cabinets
Shaker cabinets will always be in style! This unique cabinet has no fussy design elements, so they are perfect for every kitchen and complement any design, whether it's traditional or modern. You'll see these timeless cabinets in a lot of kitchens in 2022 because they are simple and beautiful.
Modern Cabinets
Streamlined cabinets will be very popular this year; you will see seamless panels everywhere. Flat panel doors are sleek, cool, and very modern and will completely transform your space.
We Can Help!
180 Kitchens can help you pull together your dream kitchen by pairing updated cabinets with today's kitchen design trends, such as quartz countertops, waterfall islands, backsplashes, storage solutions, box extensions, and new doors. We can even custom build floating shelves or a dream pantry!
We serve the Vancouver—Surrey area and genuinely care about all of our customers and community. We use eco-friendly products and pride ourselves on keeping doors out of the landfill—another reason cabinet refacing is a great idea.
If you want to update your kitchen, contact 180 Kitchens. We'll be happy to have one of our design specialists consult with you in your home, at not charge, to help you turn your space around!
Callout:
Top 10 Things to Consider When Updating Your Kitchen
Goals. Is your kitchen unworkable? Are you updating it to sell your home?
Budget. Refacing is a cost-effective way to update your cabinets.
Appliances. Do they need replacing? This additional cost can make refacing the best option for your cabinets.
Inspiration. What style(s) do you like best? We have many styles and colours to choose from.
The space available. Do you have room for the huge island you envision?
The current state of your cabinets.
Details. Hardware and fixtures can make a huge difference to the look of your kitchen.
Flooring. Was it installed after your lower cabinets were put in? Refacing means you won't have to replace your floor to accommodate new cabinets.
Time available. Can you be without a kitchen for long? Refacing can usually be done in a day or two.
Environmental impact of your choices. Refacing your cabinets creates less waste.
Sources consulted:
180 Kitchens website and Instagram
9 Kitchen Trends That Will Be Everywhere in 2022 (thespruce.com)
2022 Kitchen Trends That Will Be Everywhere | Better Homes & Gardens (bhg.com)