How to Select Cabinet Knobs and Pulls
How to Select Cabinet Knobs and Pulls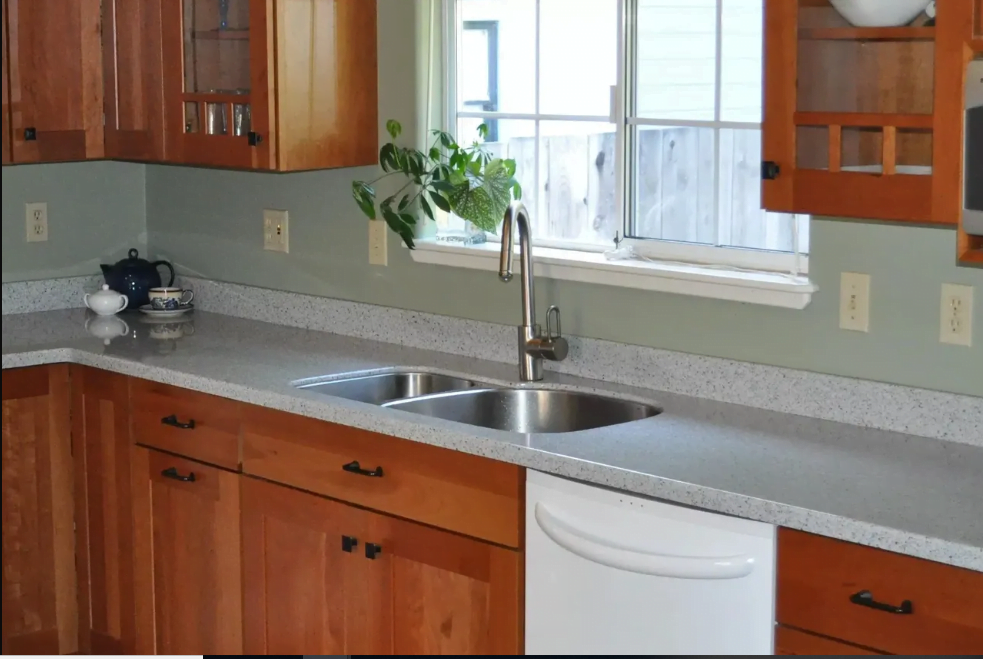 Function and beauty are good reasons to love knobs. Kitchens get messy daily, and preventing that mess from ending up on your cabinet surface is important for its longevity. Knobs and pulls help to protect your cabinet finish because you are not transferring the oils on your fingers to the cabinet fronts.
You also need them to open your doors and drawers if you have a frameless or full-overlay cabinet since your fingers won't fit in the reveals of the cabinet for operation.
They are available in a plethora of styles and finishes that can enhance the design of your kitchen. So how do you make your selection?
If you are remodeling or building new, choose hardware last. After you have all of your materials chosen, use these tips to guide you toward the right cabinet hardware for your kitchen.
Here are cabinet hardware options to consider for your next project.
Determine If You Want a Knob or Pull
Kitchen cabinet black handles
There are no strict rules to follow when choosing whether to select a knob or a pull or both.
One preference is to use knobs for all doors and pulls for all drawers. For any large door such as a pantry and any pull-out door (including pull-out base pantries or trash pull-outs), use a pull.
It is much more comfortable to open a drawer using a pull. This allows the whole hand to grab instead of only your fingertips. This is extremely helpful since drawers can get very heavy with all of your pots, pans, dishes, etc.
You can also stick to only knobs or only pulls. The use of all knobs is a fad apparent in many older kitchens before there was a variety of hardware to select from. The use of all pulls is a more contemporary look but is also seen in more traditional kitchens with a more traditional pull style.
When deciding to use all pulls, you must consider how they will be mounted. Use horizontal (contemporary) for drawers and vertical for doors. If you choose the latter, find a pull that is not heavy, as this tends to add weight to a kitchen.
Figure out If You Want Square or Curved
Gold kitchen knobs
Take note of your cabinet style, countertop edge, lighting fixtures, and any other important design elements. Do they have square or curved lines?
Choose hardware that is consistent with the type of lines in your design.
Examples of square cabinet styles include a shaker, flat panel, or any "modified" shaker door with a flatter and squared look. Square-style hardware can still be round in shape with square contours. These are more contemporary.
Examples of curved cabinet styles include traditional raised panel doors, pillow-top doors, recessed panel doors with ogee edges, or beads on the inside or outside profiles. Curved-style hardware has soft edges and more detail. These are more traditional or transitional.
Consider the Finish
Kitchen cabinets, black handles
While most homeowners will choose chrome or brushed nickel, there are numerous other finishes available to add interest to your kitchen. You don't need to match your faucet as long as the finish complements other finishes in the design.
Some finishes go well with brushed nickel or brushed stainless faucet: antique pewter, bronze (light to dark), satin brass (this one can get tricky), oil-rubbed bronze, aluminum, black matte, and rust.
Finishes that go well with a chrome faucet are more limited, such as white, black, dark bronze, pewter, or clear glass.
Think About the Comfort
Try out the knob or pull before you purchase the entire kitchen.
Touch it, feel it, and fit your hand inside the pull. Does it fit? Does it feel nice? Or does it cram your fingers and feel sharp around the edges? You should be able to fit four comfortably.
When you grab the knob or pull, does it have pointy edges or ridges that press on your fingers? That can get pretty annoying when you use them 1,000 times per day.
Many companies, such as Top Knobs, offer a sample program where they will send you the knob or pull you are interested in, and only pay the shipping.
Try out the company. It will be worth the extra research.Continue to 5 of 5 below.
Examine the Cost
Keep in mind that you get what you pay for. There are a handful of companies with inexpensive brands and their finishes are also sub-par and look cheap.
Instead of going to the big-box stores, look for hardware through your local plumbing or cabinet showrooms, as they will have a larger variety and salespeople on hand to assist you.
A good price range for knobs is $6 to $10 and for pulls is $7 to $12 and higher. Price is based on finish and design. Solid stainless steel or bronze is going to be much more, though. The longer pulls will also run more in cost since there are more materials used.
Whatever you choose, always order a few extras just in case a screw breaks or the finish starts rubbing off.
Jewelry of the Kitchen
Cabinet hardware is the jewelry of the kitchen, so just like in a wardrobe, it must coordinate, be comfortable, and enhance the design of the outfit. So before you buy, do your research, order samples, and check finishes with your kitchen materials to get the perfect fit.
Source: https://www.thespruce.com/