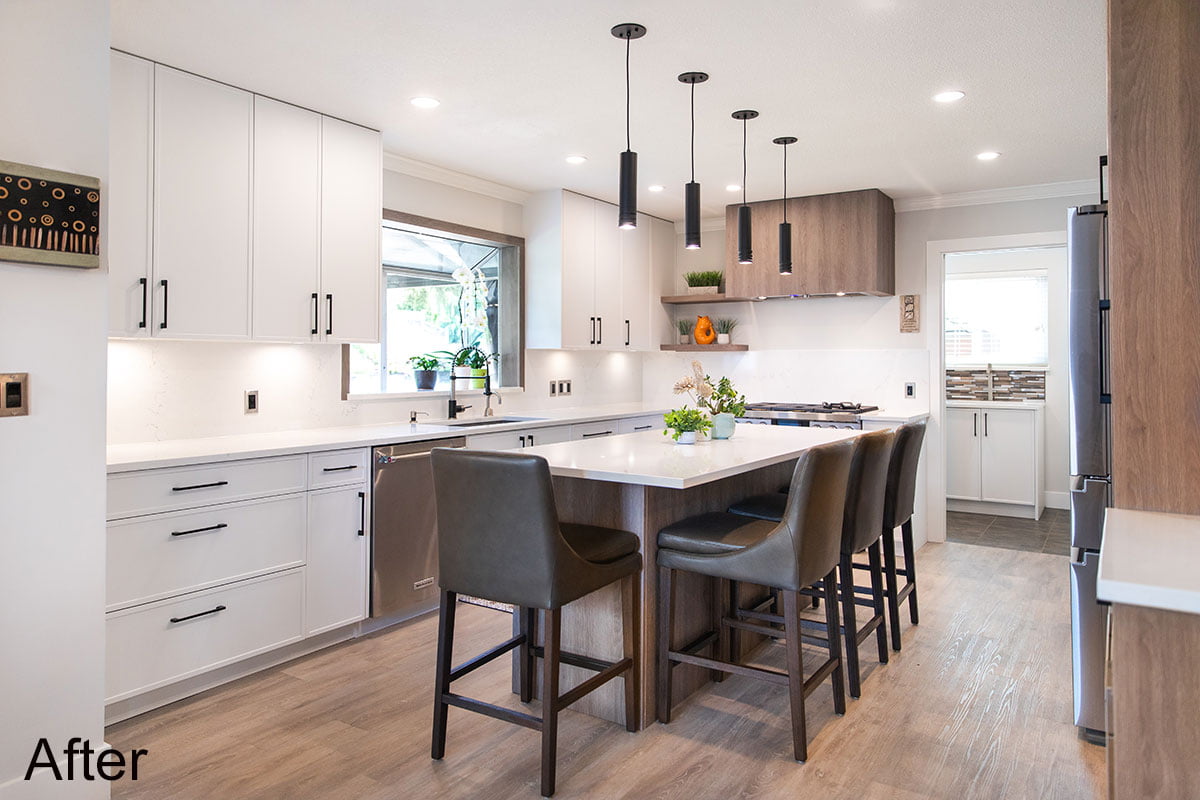 Renovating! It can be a nightmare of living in a construction zone or vacating for weeks or months, timelines that bear no resemblance to what really happens, and contractors who think homeowners have bottomless pockets. But after Greg and Lisa had worked with 180 Kitchens to do an extensive renovation,
Greg's reaction was "we got lucky!"
The couple wanted to bring light into their dark kitchen. Their home is more than 30 years old and the kids are grown, so you might think selling their home and buying a new one would be best. But they live in the Vancouver area, and with the real estate market being what it is, they didn't want to go through that ordeal. Renovating seemed a better choice and they weren't newbies; they had renovated their kitchen 18 years ago. (And still, they were willing to do it again!)
Their kitchen was a beautiful space, with rich dark cabinets and flooring that had stood up well. But as Lisa says, it was time for a change. They did their homework,
considered options, got quotes. Starting with a vision board and a designer, and prompted by a friend who knew how much Lisa loved their neighbourhood, they went to a trade show. And that's when they got lucky.
They talked with several people but made an instant connection with Curtis Murray, co-owner of 180 Kitchens with his wife Channell Murray, and decided quickly to work with them. According to Lisa, the answer to their requests was never no and there was no upselling. Their designer worked with Amanda Ness, 180's designer, who had great ideas because of her knowledge of the product and its possibilities. In fact, Lisa and Greg felt so confident in Curtis and the 180 team that they expanded their kitchen reno to include the laundry room, powder room, ensuite bathroom, living room fireplace, flooring throughout their home, and the bar, which now has a unique live-edge waterfall countertop. The job even included knocking out a pony wall to install an elegant wrought iron railing to allow open sight lines between the living and dining rooms.
It was the largest job 180 Kitchens has undertaken to date and took just a little over three months—lightspeed given pandemic-related supply issues. The results are
stunning! The new kitchen is light and airy, with a mix of white and wood grain cabinetry, a new island with more seating than they had before, a more workable
floorplan, luxury vinyl plank flooring, sophisticated counters and backsplash, and simple fixtures and hardware. They used more than 50% of the original cabinet boxes, an
environmental aspect Lisa and Greg appreciated. Curtis managed everything, acting as contractor for the other trades, including plumbing, electrical, drywalling, and flooring.
While the work was being done, Lisa and Greg lived in their home and were able to use their oven and fridge, though the laundry sink had to do double duty as the kitchen sink for a few days. The 180 crew was phenomenal—efficient, professional, highly skilled and they cleaned up well at the end of each day. The couple is very happy with the
high-quality products used in their home.
According to Lisa and Greg, excellence is the hallmark of 180 Kitchens. The reno from start to finish was a positive experience and they got a new house without moving. They encourage anyone looking to turn their space around to give Curtis and his team a look—you'll be lucky too!
"Everyone we met at 180 Kitchens was great! Curtis was so helpful and always got back to us. No request was too big and everything they did was done professionally and to a high standard. We are very happy with our extensive reno! "
~ Lisa and Greg Porcellato